User-oriented Skatepark Design.
LNDSKT is founded and operated by skateboarders.
We offer individual skatepark design according to HOAI work stages 1-9 (Official Fee Scale for Services by Architects and Engineers). Designed with great attention to detail, our skateparks require minimal maintenance. Our designs always prioritize the goals of our clients and the needs of end users.
1
Evaluation and Research
Compilation of skatepark-specific service package, quantity determination based on plan of execution, coordination of services with contractors, cost estimation and cost control, scheduling, and assembly of contract paperwork.
3
Design Development and Cost Estimate
7
Support for Contract Award

Based on client goals, local user needs, expert opinions, and our own experience, LNDSKT creates holistic concepts for state-of-the-art skateparks. As a skatepark planning and consulting company, our high quality service promise follows six core principles: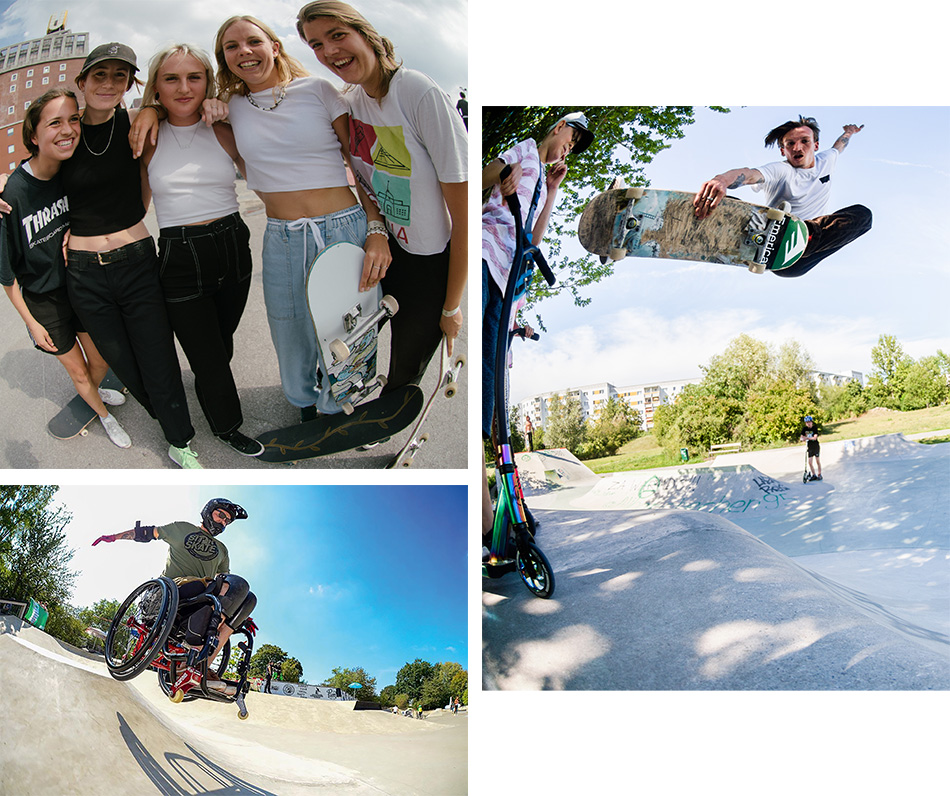 With the main goal of orienting skateparks towards the greater common good, the planning of our facilities includes the following three social aspects in terms of skatepark design:
1. Broad User Group
(Skate, BMX, WCMX, etc.)
2. Inter-Generationalität
(from young to old)
3. All Performance Levels
(from novice to professional)
Science-based skatepark planning
Who we are?
We are a team of skateboarders, landscape architects, concept designers, and planners united by a shared passion for skateboarding.
Managing Director
Jonathan Wronn
Drawing on over 20 years of experience in the skateboard industry, Jonathan Wronn uses his know-how in sports and events management to involve all stakeholders – from local skateboarders to municipal officials – in the skatepark planning process.
Managing Director / Concept Design
Dr. Veith Kilberth
An active skateboarder since 1987 and former professional rider for a US-skate company, Veith Kilberth earned his diploma in Sports Science. Combining his active skateboard experience with a conceptual-analytical background, allows Veith to envision innovative and progressive skatepark concepts.
Design Executive / Project Lead
Daniel Schreitmüller
Dani lives skateboarding, everyday, 24/7, on and off the board. He provides the team with the necessary and most recent updates of the skateboarding community and gathers inspiration from all different kinds of environments which he then transforms into state-of-the-art skatepark designs. As an authentic part of the user group, he holds participation workshops and makes sure no ideas of the locals are left behind.
Landscape Architect (BY Architectural Association)
Ulf Glänzer
Accredited as an landscape architect and part of renowned planning offices, Ulf has taken over leads for various national and international projects in the past. With LNDSKT, Ulf is handling technical and architectural tasks throughout all planning stages ranging from pre-planning to construction supervision.
Landscape Architect (NW Architectural Association)
Tobias Zwickler
As accredited landscape architect since 2008, Tobias has been involved with the conceptualization & implementation of numerous projects on international level.
He handles all architectural services, the integration of designs into the environment as well as technical implementation for all services according HOAI.
Landscape Architect (BY Architectural Association)
Wolfgang Stattmann
As a graduated landscape architect (Dipl.-Ing.) he already led various projects in planning agencies in Germany and abroad. With LNDSKT, Wolfgang's main tasks are implementation planning, authorisation procedures, tendering, contracting and construction supervisions.
Landscape Architect
Daniel Rüth
At LNDSKT, Daniel combines over 10 years of skateboarding experience with his skills as a landscape architect (M.Eng.). Before joining LNDSKT, he already worked as a civil engineer and construction manager in different companies.
Architect
Katharina Küsgens
After finishing her architecture studies (Dipl. Ing.) in Cologne, Katharina has been working in structural architecture for 13 years. With both national and international experience at hand, she supports the LNDSKT planning team mostly in pre-, design- and implementation planning.
Architect/Urban Planner (CAU, Brasil)
Fabio Lanfer
After Fabio successfully completed his studies at Mackenzie University in Sao Paolo in 2009, he was initially involved in building construction projects. From 2014 on, motivated by his passion for skateboarding in urban spaces, he increasingly dedicated himself to skatepark planning before joining our LNDSKT planning team in 2022.
Architect (CAU, Brasil)
Eduardo Natário
Eduardo has been involved in skateboarding since the early 80s and began planning skateparks as a certified architect in 2000. He has helped realize over 200 public and private skatepark projects in Brazil. He joined our team in July 2019 and brings extensive experience in planning bowls, snakeruns, and flow, ensuring precise alignment of radii, angles, and materials.
Creative planning & user participation
Tobias Hunger
Tobias has not only been an active skateboarder for 30 years, but also a creative part of the culture. As the founder of a skateboard brand and a skate store, he brings the necessary competence and credibility to be able to mediate between participation groups and clients in a goal-oriented way as a creative planner.
Civil Engineer (M.Sc.)
Nils Saßmannshausen
Nils has been skating for almost 20 years and, after studying civil engineering with a focus on reinforced concrete and concrete technology, was initially self-employed in the field of concrete design and concrete product development. Since April 2023 he strengthens our team in the execution planning, in the structural LP's and of course in all topics that somehow have to do with concrete.
Skateboard Expert
Norbert Szombati
As a former professional skateboarder, Norbert has set his wheels on skateparks and spots across the entire world. What's more, his work as Creative Director at a skateboard agency as well as a skateboard festival puts him in touch with international skateboarders, creatives, industry representatives on a daily basis. In his job at LNDSKT, Norbert supplies the skatepark planning team with a constant stream of fresh creative ideas and is mainly focused on digital marketing as well as social media and catalysts.